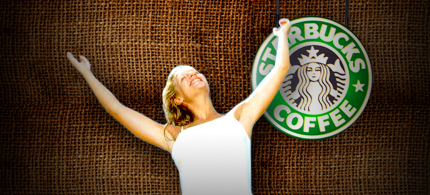 Starbucks. When you say the name, it automatically conjures up an image: an upscale coffee bar with light wood, glass and chrome. The invigorating and inviting aroma of brewed coffee and the café atmosphere has made Starbucks the best-known specialty coffee
roaster and server in the world. Starbucks has done an excellent job of branding their company - it is the only coffee brand that is on the list of 100 most recognized brands in the world. What makes the Starbucks brand and the Starbucks coffee experience so ubiquitous that it ranks up there alongside Google, McDonalds and Coca Cola in name and brand recognition?

Sheer size and Starbuck's number of locations has something to do with name recognition and popularity. With over 16,000 shops worldwide, Starbucks is certainly one of the most visible brands in the world. However, this is not a matter of the chicken or the egg - in order to become so visible, Starbucks had to start off with something special in the first place. It is that "something special" that defines the Starbucks coffee experience.

The Third Place

Since the opening of its first stores in Seattle, Starbucks has striven to be more than just a place where you buy coffee
. Howard Schultz, company President and CEO, defined the atmosphere that Starbucks attempts to create when he said "We're in the business of human connection and humanity, creating communities in a third place between home and work."

The Third Place concept informs the design of Starbucks shops. While coffee takes center stage, the design is meant to make customers comfortable. To further customer comfort and social interaction, most Starbucks stores mix upholstered chairs and sofas with hard-backed chairs around tables. Most Starbucks stores offer free electricity to their customers so that they can plug in their laptops and all U.S. Starbucks offer Wi-Fi access through AT&T. In addition, many Starbucks feature a well-stocked reading and game shelf to encourage customers to settle in and hang out with friends for a while.

The Coffee Experience

More than anything else, of course, Starbucks is about the coffee. The company started out as a premium coffee roaster, and they stayed true to their roots by serving nothing but excellent coffee. As of early July 2008, Starbucks announced that they would be changing the way that coffee is made and served in their stores around the world in an effort to provide the best coffee
experience possible. The changes will be rolled in across the U.S. by the end of 2008, and include a commitment to grind and brew many coffee varieties to order, as well as to discard any coffee that has been brewed for more than thirty minutes.

In order to enhance the coffee atmosphere, Starbucks employees are requested to avoid wearing strong perfumes that might interfere with the coffee aroma, and nearly all Starbucks around the world are non-smoking indoors. The preservation of the coffee-centric atmosphere was the reason that Starbucks abandoned its short-lived foray into serving breakfast sandwiches. According to some sources, the smell of the breakfast sandwiches overpowered the coffee aroma, making the coffee cafes smell like diners - an image that the company does not want to present.

All About the Coffee

The Starbucks coffee experience extends to brewing your own Starbucks coffee at home. The coffee roasts that Starbucks have chosen for sale are those that best reflect the rich coffee flavor and aroma of your local Starbucks. Those roasts tend to lean heavily toward darker roasts, because it is easier to maintain consistency of flavor across batches when roasting darker. Darker roasts also tend to be more 'coffee' flavored than lighter roasts, which allow the variations of region and season to be more readily apparent.

Since 2000, the Starbucks coffee experience has also included feeling good about your coffee choices. That's the year that Starbucks started selling its line of Fair Trade Certified coffee. As of 2005, Starbucks was the largest single buyer of Fair Trade certified coffee in the world, buying over 11.5 million pounds of FTC coffee - about 10% of the entire U.S. volume of Fair Trade sales. The amount accounted for about 6% of the company's total coffee buying for that year. While some activist groups pressure Starbucks to increase the percentage of Fair Trade coffee that it offers for sale, company spokespeople point out that they pay above market price for coffee and that they also deal with many small growers who can't afford the cost of Fair Trade certification.

The Starbucks Coffee Experience

The Starbucks coffee experience can be summed up in just a few words: great coffee in comfortable surroundings served by an attentive staff and produced by a company that cares about our world. With great tasting drinks and a commitment to creating a fun atmosphere, it is no wonder why Starbucks has become a household name.